Aquatop for our bordering countries
Aquatop is one of the biggest pet supply markets in Germany. We have big departments for aquaristics, garden ponds, dogs, cats, small animals, reptiles and amphibians. Due to our location near the border at the "Aachener Kreuz", visitors from our bordering countries: Belgium, the Netherlands and Luxembourg belong to our customers. These can look forward to a lot of adventures at Aquatop: Starting with the 6.000-litre cylindrical seawater column, followed by the moderated piranha feeding, display aquariums, feeding koi and sturgeons up to our self-service dog wash system. The journey to Germany is worthwhile for a visit at Aquatop because your purchase will not only be eventful but your long drive will also be rewarded with discounts! All customers with a journey of more than 50 kilometers will receive a one-time purchase discount of € 5. The discount is redeemable and gilded once per customer with a purchase of 30 Euro or more.
Nous récompensons votre arrivée
Profitez de notre réduction sur les voyages sur les étendues d'Aquatop
Aquatop est l'un des plus importants marchés de fournitures pour animaux de compagnie en Allemagne. Nous avons de grands départements pour l'aquaristique, des bassins de jardin, des chiens, des chats, des petits animaux, des reptiles et des amphibiens. En raison de notre emplacement près de la frontière au "Aachener Kreuz", les visiteurs de Belgique, des Pays-Bas et du Luxembourg appartiennent à nos clients.
Ceux-ci peuvent s'attendre à de nombreuses aventures chez Aquatop: à commencer par la colonne d'eau de mer cylindrique de 6 000 litres, suivie par la piranha modérée, les aquariums d'affichage, les koi et les esturgeons jusqu'à notre système de lavage pour chien en libre-service. Le voyage en Allemagne vaut la peine d'être visité à Aquatop, car votre achat sera non seulement riche en événements, mais votre long trajet sera également récompensé par des réductions!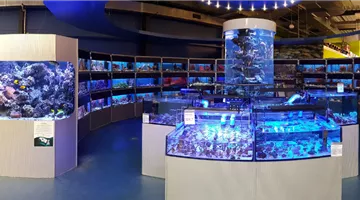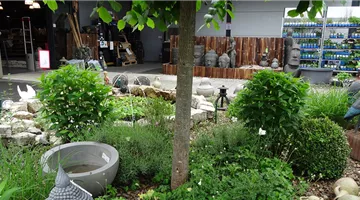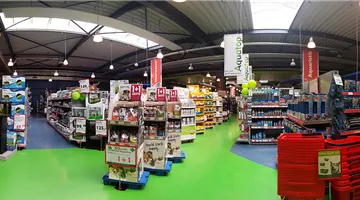 Our opening hours and contact
Our market has a lot to offer. Whether feeding koi and sturgeons, the self-service dog wash system, the cylindrical seawater column, the moderated piranha feeding or our garden pond displays. Our regular opening hours are Monday to Friday from 10 am to 8 pm and on Saturdays from 9:30 am to 6 pm. We'll even open for you on Belgian holidays, like the Belgian National Day, Assumption of Mary and Armistice Day – as long as the holiday is not a Sunday. An exception is the self-service dog wash system. It is opened 24 hours, 7 days a week.
St.-Jobser-Str. 57
52146 Würselen / bei Aachen

Phone: +49 (0)2405 407070
Fax: +49 (0)2405 40707-50
Email: kundenservice@aquatop-aachen.de
On this page we introduced our stunning pet shop to you. We'd be really happy if you visit us and if we can convince you of our shop personally! Besides our high quality products, the comprehensive biodiversity as well as great events, multiple services are waiting for you. Do you have any questions you would like to have answered before you visit our eventful shop? Then feel free to use our contact form. Here you can ask all of your questions and we will get back to you as soon as possible.
Pflichtfelder sind mit * markiert.
Discounts and offers via newsletter
In order to stay up to date and to avoid missing some of our offers as well as discount campaigns, you can sign up for our newsletter. The beastly good newsletter is for free and provides you with the latest information. When registering for the newsletter, you can check which areas you are most interested in so that you'll receive only appropriate information.